The history of the Chalet de Rozan
The house and your guests
La Tronche à 5' de Grenoble
Maison en pierre et bois de 1903
1 studio de charme, 1 chambre d'hôtes
Activités outdoor toute l'année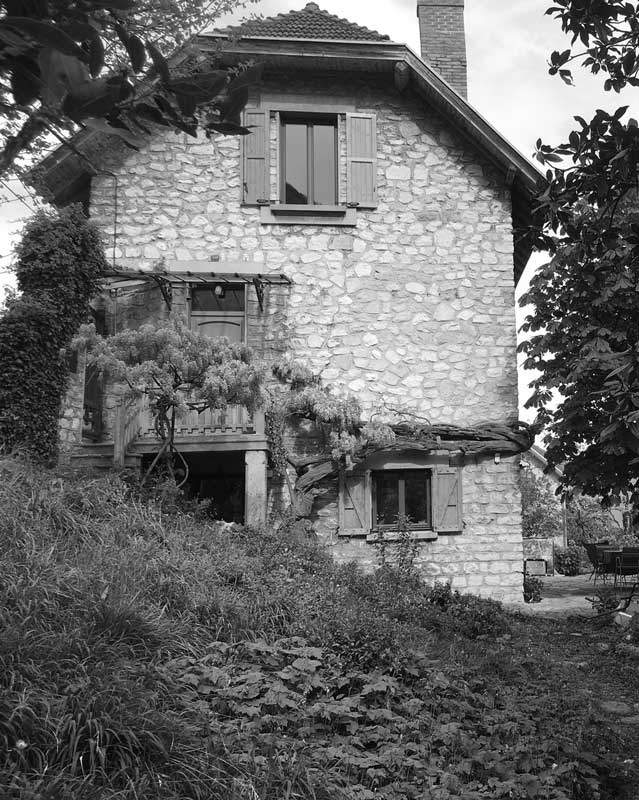 History
La Tronche, metropolis of Grenoble, Isère
An old, healthy and modernized house
Our house was built in 1903 with all the common sense of old character houses. The modern concepts of bioclimatic houses seem to have been respected!
North façade buried for freshness in summer and mild winter.
South-facing windows protected by the advance of the roof in the summer and well exposed in winter when the sun is lower.
Trees leafy on the sun side and persistent on the west side.
In the 1960s, the "cave" was converted into a living room and kitchen, accessible by a small dark staircase that was quickly refreshed!
Eco-design work
During our countless renovations from 2014 to 2018, we tried to respect the structure of the house and its strong personality. A huge work of insulation from the inside was carried out (windows, doors, roof, walls) with a maximum of biological materials (wood fiber, aluminum, wood). 30 photovoltaic panels replaced the roof tiles. Rozan's cottage, built in 1903, has become a positive energy house in 2018.
Creation of the Cottage de Rozan cottage
Why and how to decide to dedicate part of the house to welcoming travelers?
As a city dwellers in an apartment, we have always designed the house as a place of welcome and sharing, open to passing travellers. Why occupy 1300m2 of surface and a large house just for us? Happiness is only worth it if it is shared! And this house gives us a lot, from sunrise on the Belledonne massif to sunset on the Vercors, a wonderful garden, a view that we still do not get tired of, planchas on the terrace and swimming in the clear water. Wouldn't it be a shame to keep all this to yourself?
Also, any project of this magnitude requires an economic and ecological balance for it to be sustainable. The revenues generated by the cottage and the photovoltaic panels contribute to financing and carbon offsetting.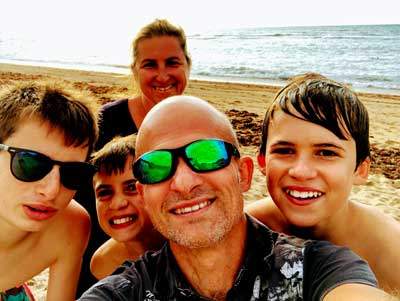 Your hosts
Celine and Denis
We have been based in Grenoble since 2014 and it's not for nothing! Fans of mountains, nature and know how to live, we want the chalet of Rozan to live in the sandstone of the seasons and its occupants. For us, ecology is concrete and we intend to help put man back in nature. 97% of our visitors seemed so far convinced and of this we are satisfied.
Rozan's cottage
Activities, Services and Equipment
Restaurants
We can direct you to restaurants in La Tronche or Grenoble. Connected, cool, gourmet, mountain, we have all styles. 
Bars & cafés
Grenoble offers a lot of entertainment, including nightlife. Many nice bars are easily accessible from home by public transport.
Outdoor & Sport
The chalet is at the start of many hikes or trail routes for all seasons. We are here to guide you and we have IGN maps and local guides at our disposal. If necessary, we can rent bikes for you.
Art & Culture
Grenoble has many theatres, concert halls and museums. The Grenoble Museum is close to the house. 
We also recommend discovering the rural museums and in particular that of the monastery of the Grande Chartreuse.
Stations de ski
The Rozan chalet is ideally located to taste at different resorts in the 4 massifs that surround Grenoble: Chartreuse, Belledonne, Vercors or Oisans. The nearest resort is the Porte Pass which we highly recommend. You can practice cross-country skiing, skating, alpine skiing, ski touring or snowshoeing. The resort is family friendly, very friendly and cheap. A little further, you can access Saint Pierre de Chartreuse, Les 7 Laux or Chamrousse in 30-40 minutes. Finally, you can access La Grave, L'Alpe d'Huez or Les 2 Alpes.
Activités à la journée
We have many tourist brochures at our disposal and we are happy to give ideas for walks, bikes or cars.